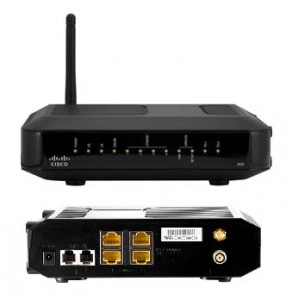 I recently got UPC 30mb broadband and it works quite well. I'll just to jot down some of the details with the Cisco EPC2425 Home Router settings in case I need them. 
Default Settings
Login URL: http://192.168.1.1
Username: <blank>
Password: <blank> 
There is an "Advanced" tab which will ask for another Username & Password:
Username: admin
Password: W2402 
---
 Dynamic DNS (dyndns)
I also wanted to setup my Dynamic DNS settings from dyndns.org. Login as above, go to the "Dynamic DNS" under the Setup tab. Enter your details. After clicking apply, you will get the error "Unrecognized return code". To solve this: Simply reboot the Router, and it will set the dyndns settings. 
Ref: #1