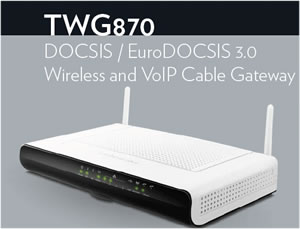 So I recently got 100Mbps Broadband from UPC 🙂 My Cisco EPC2425 got replaced with a Thompson Broadband Router (Model: TWG870UIR).
Default Settings
Login URL: http://192.168.0.1
Username: <blank>
Password: admin
SSID: UPC00XXXXX  (AFAIK, the SSID of Thompsons will be in the format UPC00….)
WPA2-PSK: <should be on the sticker underneath the router>
Manuals in PDF
See attached two manuals for this Thompson Broadband Router.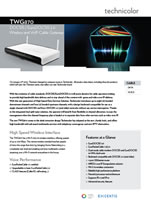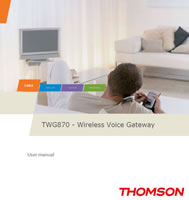 Thoughts
The router itself is nicer than the EPC2425. It is a gigabit router, so my wired network is much faster than before. The wireless (n) was OK. I highly recommend that if you want to get full 100Mbps, you will need to use a Ethernet Cable (see my article on creating a network cable). I got max 60-70Mbps via wireless. This router however has no Dynamic DNS options (as had the EPC2425, albeit that didn't work great either as its settings didn't remain).
The 100Mbps broadband speed from UPC was very good. (100Mbps down, 7 to 10Mbps up) I am able to download 12.5MB (megabytes) a second consistently. However that is only with the use of a Download Manager (which downloads several threads together). I used LeechGet 2009 (worked ok). With a single download, speeds were around 4MB/sec. Speed tests on the UPC website  (and UPC nl website) showed the advertised download and upload speeds.
A Download Manager (or program with threaded download capability) is required to get full use of the 100Mbps Internet connection.